Are Engagement Rings Marital Property and Subject to Equitable Distribution?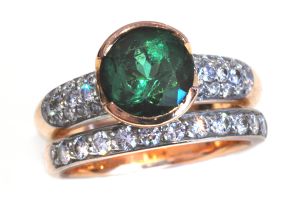 The age old question, which invariably comes up time and time again. The answer to this question is determined by examining the reason why an engagement ring is given by one party to the other.
An engagement ring is a gift made upon the implied condition that a marriage is to occur. If a marriage does in fact occur, the courts will most likely follow the general rule that engagement rings are not marital assets subject to equitable distribution. Rather, they are the separate property of the recipient.
In the event a marriage does not occur, the chances are much better for recovery of the ring, since it was conditioned upon the subsequent marriage.
An interesting twist to the engagement ring story occurred in the case of Randall v. Randall, 56 So3d 817 (Fla. 2nd DCA 2011). In the Randall case, the judge treated the engagement ring as a family heirloom, and provided that the husband could hold the ring, as long as he delivered the ring to his children as he saw fit.
The wife promptly filed an appeal of this ruling, and she easily prevailed on her appeal. The appellate court followed the general rule that an engagement ring is a gift, in contemplation of marriage, and once that marriage occurs, the ring belongs to the wife.
An engagement ring is simply not subject to equitable distribution, and the trial judge has no jurisdiction over the ring.
Client Reviews
Get in Touch
1

Free Consultation

2

40 Years of Experience

3

Speak Directly to an Attorney
Fill out the contact form or call us at
(954) 229-1660
to schedule your free consultation.