Firm Overview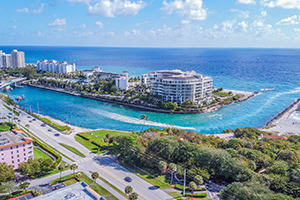 My name is attorney Alan R. Burton, and my role is to be your legal advocate and help you achieve your goals. I maintain an office located in Boca Raton and like most attorneys today, utilize the Zoom platform to meet with clients as well as appearing in court. I have practiced law since 1979, and bring a high level of legal experience and commitment to service to every client.
Contact me today to schedule your free initial consultation to learn more about how my experience and services can be of benefit to you when you need help with a family law situation. I can be contacted at (954) 295-9222 or by email at alan@alanburtonlaw.com.
Boca Raton Family Law Attorney
In more than 40 years of legal practice, I have served numerous clients across a wide range of situations. As unique as your specific situation may be, it is likely that I have helped someone in a similar situation. I am also very much at ease arguing my client's position in a courtroom before a judge.
In 1991, I appeared before the Supreme Court of Florida to argue the landmark case of Robertson vs. Robertson. This case has had a profound impact on marital property rights in Florida and is cited by trial judges and attorneys throughout the state of Florida. I have additional experience arguing cases before appellate courts, having argued more than 40 cases before the 4th District Court of Appeal in West Palm Beach, Florida.
The possibility of a looming divorce proceeding can be a frightening experience. This is especially true when there are minor children whose needs must be met.
There are many unanswered questions going through your mind. The "fear of the unknown" as well as the daunting judicial process that awaits you can cause extreme anxiety.
An Experienced Fort Lauderdale Divorce Lawyer Who Provides Clear and Compassionate Counsel
Being a seasoned trial attorney, with over 40 years of experience, I am well-equipped to alleviate most, if not all, of your fears and anxiety. I understand how the legal system operates as well as what various judges expect from the professionals who appear in their courtrooms.
I will educate you so that you will have a clear understanding of your rights, responsibilities and obligations. You will have all the knowledge and information necessary in order for you to make informed decisions concerning your family and your future.
The process of divorce can take an emotional drain on almost anyone. I attempt to seek prompt resolutions to existing disputes at the earliest opportunity. This is especially true in cases that involve minor children.
The court considers the best interests of minor children to be paramount in any case in which the parents have ongoing conflict. The court will seek to shield minor children from any harm that may either be intentionally or unintentionally inflicted upon them, based upon the conduct of either one parent or the other.
When choosing a lawyer, having trust in that particular individual is most important. You are entrusting your future financial well-being with the attorney you choose. More importantly, however, you are also entrusting your lawyer with the future of your children.
Choose a Palm Beach County Family Law Attorney With a Truly Client-Centered Approach
Generally speaking, most lawyers who hold themselves out as family law attorneys are well qualified to represent you in your case. However, you should not base your decision solely upon marketing strategies employed by lawyers.
This is why I offer free initial consultations with everyone, and afford you the opportunity to meet me. With the technology existing today, many of my client consultations and conferences are conducted by Zoom.  This affords you the opportunity to talk with me and see me on short notice, which is a real benefit for you. I will not watch the clock, nor will I limit your time with me. This is your life, your future, and you should not be under any pressure to tell me everything you want to say. I will spend as much time with you as the situation requires. Get to know your lawyer before you hire him or her.
I would encourage you to review the testimonials that have been posted on my website. As you can see from the testimonials, I provide all of my clients with hands-on dedication to their case. No one is shortchanged. Many of my previous clients have found my even-tempered, calming and non confrontational personality to be a great benefit to them. That's not to say that I don't "assert a strategic offense" when the situation requires me to do so. I will vigilantly protect your rights.
So if you suddenly find yourself in the uncomfortable situation of facing a divorce, you do not have to "go it alone." I would urge you to take advantage of the opportunity that I am offering and feel free to call me when you are ready to face your situation head-on.
The other cornerstone of my work is my commitment to offering a high level of personal service to each client. I will respond promptly to your phone calls and e-mails, and will take the time to fully understand what you want in your case. I understand that the way in which your case is resolved will have a major impact on your life, and I move the case in the direction you want it to go.
Divorce is an emotional event in one's life, and I know that personal attention and assistance is required after hours or on weekends. I will make myself available to you throughout the weekend and during evenings. I truly understand your situation and know I can help.
Contact Alan Robert Burton, Attorney at Law, Today for Experienced Help
I will also give you realistic counsel about how your case is likely to proceed. I will not make promises or give you the idea that I can achieve results that are not likely to happen. Instead, I will inform you of your options and the advantages and disadvantages of each option. Once we have agreed on a course of action, I will work hard to achieve your goals.
Although I maintain an office in Boca Raton, I represent individuals residing in Palm Beach, Broward, and Dade County, Florida. Call me on my cell at (954) 295-9222 or email me at alan@alanburtonlaw.com. I maintain flexible office hours to discuss your family law issues.
Client Reviews
Get in Touch
1

Free Consultation

2

40 Years of Experience

3

Speak Directly to an Attorney
Fill out the contact form or call us at
(954) 229-1660
to schedule your free consultation.